Variable Imaging and Mail Services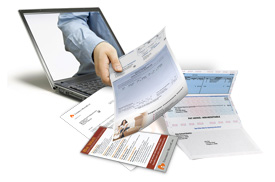 Let print-forms save you time, money and aggravation by handling the printing, data processing and mailing services.
Free up your internal resources and streamline your operations.

Let print-forms handle your critical communications:
Invoices & Statements, Explanations of Benefits, Membership & Subscription Renewals, Letters & Postcards, Check Processing &
Tax Documents

We provide services to help the following:
Financial and Banking
Healthcare
City, Country and State Governments
Utility Companies
Manufacturing and Distribution
Insurance
Technology Companies
Service Providers

Our forms division works closely with our digital team to ensure that your order is printed on the proper stock, folded, inserted and mailed.

We'll even manage your quantities so you don't have to worry about inventory. Let us manage the details while you manage your environment.

Make print-forms your one stop processing solution, and you'll save money on costly shipping and warehousing charges. Our postal sorting division will make sure you get the best rate and the right delivery choice for your needs.

From the moment we accept a job to the delivery to your clients, we focus on quality and cost effectiveness. Add bar coding, customized advanced reporting, and searchable CD-ROM based archiving of your order, and the choice is clear.

Contact us at 1-800-778-6247 and find out how we can simplify your mailing process to give you more time to devote to your business.