Register Forms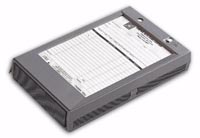 Register Forms are a perfect solution to control cash. We have standard forms for Cash / Charge Receipts, Automotive, Bills of Lading, Delivery Receipts, Dry Cleaners, Florists, Pharmacies, Travel agencies.....and many more.

Your Heading prints at top. Forms are a 3 Part Colored NCR (White/Canary/Pink). All forms are consecutively numbered and include round hole punching to fit the machine.

Available in either 4.0" x 6.0" or 5.5" x 8.5" sizes
Choose from the drop-down menu for your specialty.
View sample Register Forms

After placing your order, please fax a sample of your Register Form or the Heading you would like printed. Our Fax Number is (973) 252-1885. Be sure to reference your order number.

A Proof will be provided prior to printing.


View Sample
JPEG
Register Forms: 4.0" x 6.0"

View Sample
JPEG
Register Forms: 5.5" x 8.5"

View Sample
JPEG
Metal Counter Top Register:
For 4.0" x 6.0" Forms

View Sample
JPEG
Metal Counter Top Register:
For 5 1/2" x 8 1/2 " Forms

View Sample
JPEG
Portable Plastic Register:
For 4.0" x 6.0" Forms