DBS Premier Laser Checks
Check Printing on Laser Checks or Software Compatible Checks - Premier Line:
Our Premier line is a complete line of pre-designed forms and checks. With over 500 formats and numerous customizing feature options, Premier offers you the most comprehensive software compatible product in the industry.
Checks are available in a choice of 14 standard Ink Colors,7 Pantograph styles, 3 check borders and standard security options. All of these exciting customizing features and 5-7 day standard delivery make our premier line the most advanced software compatible forms product line available anywhere in America today.
Please fax a sample check to (973) 252-1885-reference your order number, type of software, Ink color and starting number.
For more information about our Check Printing Services, Laser Checks, and Business Checks, please visit our
Check Printing
page.
View Sample
JPEG
8.5 X 11, 1 Part Laser Check.

14 Standard Ink Colors


Many Factors such as paper color and texture, lighting and ink manufacturing tolerances affect the final appearance. Due to the variation of browsers and monitors, the colors on screen will vary from the actual printed colors. The colors shown are for reference only.
Standard Pantographs

1) Small Circles

2) Basket Weave

3) Waves

4) Starburst
5) Laser

6) No Pattern

7) Linen
3 Standard Borders

Security Features
Now every check from DBS can include the Checkpoint® Security System at no extra charge to you - five security features to help prevent check fraud. checkpoint® makes it easier to detect false documents and almost impossible for your customers' checks to be altered or copied.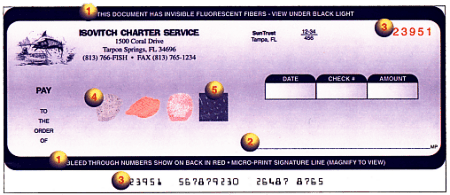 ---



A Multi-Feature
Document Security System
Just Ask For It!
---
1) Border Copy Warning: Designed to alert recipients to the standard security features on the check

2) Micro Print Security Line: Extremely small type (.010) is used in the signature line, too small to be seen by the naked eye. When magnified, the words "Authorized Signature" appear. When attempts are made to copy or scan, the line becomes solid with no words visible under magnification.

3) Bleed Through Numbering: Special ink dyes used in the numbering process, causing ink to bleed through i red to reverse side of the check. (Continuous Checks Only - not laxer compatible)

4) Chemically Reactive Papers: Stains prevent against alteration attempts from alcohol, acetone or bleach type solvents. Cannot be copied or scanned.

5) Invisible Florescent Fibers: Visable only under ultraviolet light. Cannot be copied or scanned.