U-Seal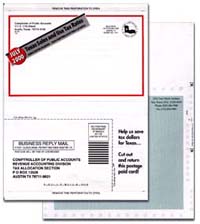 Check Printing
U-Seal self Mailer:
U-Seal is a revolutionary new concept in self-seal mailing applications. Though similar to pressure seal in using Z, C and V fold sequences, U-Seal requires only 10# of pressure to create a bond. This means you can literally hand seal your mailer. No offline equipment is necessary with minimal sealing pressure required.
Opening the document can be accomplished by peeling the document apart; therefore you do not loose any print territory to tear off margins.
We offer a stock blank 8.5" x 11", Laser Cut Sheet, Z Fold.
For pre-printed custom application, please call customer service at 800-778-6247
For more information about Check Printing and Ordering Checks, please visit our
Check Printing
page.