Pressure Seal Checks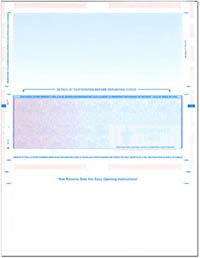 Check Printing
Pressure Seal Checks:
One of the most secure pressure seal checks on the market today. It contains the following security features:
1) Copier "Void" Feature
2) ABA Check Endorsement Clause
3) Watermark Certification Seal
4) Signature Area & Amount Line
5) Micro Printing
6) Fluorescent Fibers
7) Laid Lines
8) Thermochromatic heat-sensitive ink
on both the front & back
9) Fingerprint II Security watermarks &
warning clauses
8.5" x 11":
Choice of 8 different background colors: 4 prismatic & 4 solid colors.
8.5" x 14":
Available in a blue to red prismatic background color
For more information about Check Printing and Ordering Checks, please visit our
Check Printing
page.
View Sample
JPEG
8-1/2" x 11", Even Z Fold

8-1/2" x 14" Eccentric (Uneven) Z Fold

Customers shopping for these items, may also be interested in the following: